---

Model Name: Handi Model no 3
Lantern Model 3 Box size Wide 7 1/2" deep 6 1/2" High 13 1/2" Capacity 1 1/2 pints Burner type 300 cp
Although the one at the right end has a copper tank they are all Model 3. The First Handi light that was made is called a Swift Light . Also this is on some of the literature .
there is no proof of model 1 & 2 all lights regardless of shape are ALL MODEL 3 . There is different hoods, tripods, thumb nuts (on hoods) mantle holders, preheat bowls, filler caps, petrol & kerosene, picker levers, chrome; painted; brass, copper & stainless steel tanks, colour & wording of name plates different colours hoods (Grey, Black, Blue, Red and this list goes on. With all this all the literature new & old they all state model 3. So we have to go with the literature until proof comes forth stating other wise.There is disagreement here with the model. But the question I ask is why would Handi name their first model # 3, according to the early litterateur it is. Note the hood & tripod on the painted light then compare it with the copper tank light.
Fuel type ; All the lights (model 3) can be ran on Kerosene or Shellite (petrol) this is not automobile petrol . To convert from one fuel to the other you simply change the Jet & Filter . Fuel capasity ; of all lights is 1 1/2 pints (about 0.75 ltr.)
Instructions for the Handi Kero-Pet 3
More instructions for the Handi Kero-Pet 3

---
The Mantle
In the later years the mantles were imported from Asia. The earlier ones like the one below were made in Australia.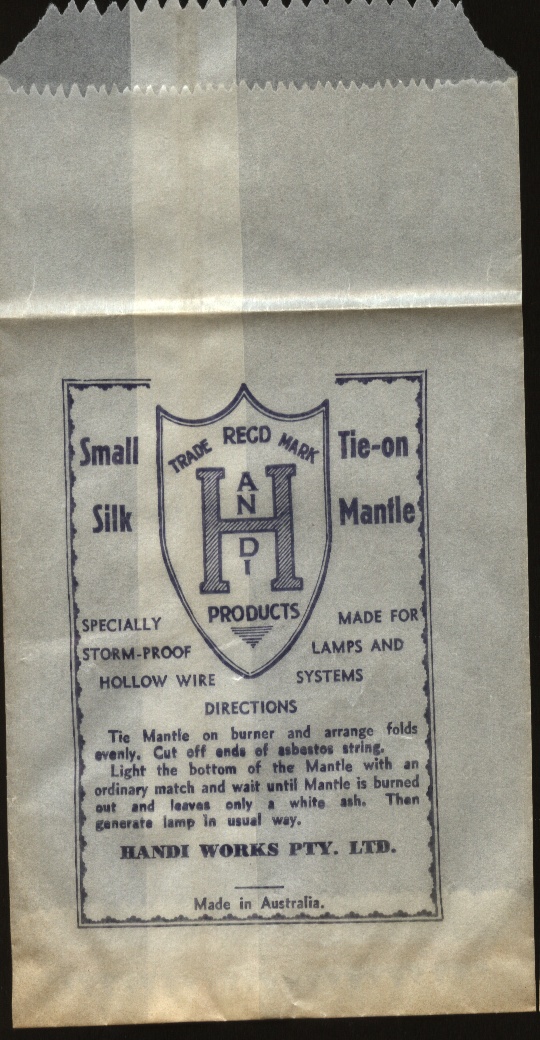 ---