Quick-Boil - Stovette - Marine - Swift-Lite - Domestic Pressure Stove
The two main stoves models were the Quick-Boil and the Stovette. Burner types silent, roarer and adjustable were available upon purchase of stoves although the roarer was the most popular, silent ran a second and adjustable if purchased some times was put on the 2 burner stoves.
---
| | |
| --- | --- |
| | Handi's most popular stove was the Quick-Boil, a 1.5 pint paraffin stove in the "Primus" style with either silent or roarer burner. |
Model Name: Handi Quick-Boil
Fuel type: kerosene
Tank size: 1.5 pints
Burner type: silent or roarer
Size wide 8 1/4" High 8" Weight 1.3kg
---
The two burner Stovette could be split into two stoves by unfastening two thumbscrews. It came with a copper tank with brass fittings, zinc plated steel frame & choice of silent, roarer or adjustable burners.
Some early Stovettes came with a carrying case.
Model name: Handi Stovette
Fuel type: kerosene
Burner type: silent or roarer
---
| | |
| --- | --- |
| | This unusual model had a gold-painted brass tank. |
Model name: Handi Swift-Lite Camping Stove
Fuel type: white gas/Shellite
Burner type: silent or roarer
---
The Handi Marine Stove & Oven, made of stainless steel and equipped with a separate fuel tank. This model was made by Mr Stewart Dodds

This stove & oven was a Special order Made by Dodds . Note the Door opening side ways
Model name: Handi Marine
The Handi Marine Stove & Oven was manufactured between 1975 and 1980.
---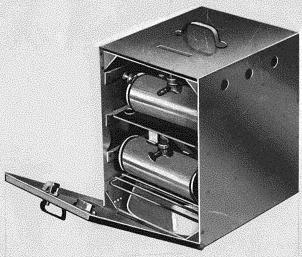 Model name: Handi Domestic Pressure Stove
Fuel type: kerosene
---